Forest Lake Endodontics provides compassionate endodontic care to patients in Stillwater, MN. Our services include root canal treatment, CBCT scanning, endodontic surgery and more. If you are experiencing dental pain or infection, contact our Forest Lake office to schedule an appointment.

Forest Lake Endodontics
1420 Lake Street S. Suite 200a
Forest Lake, MN 55025
Monday | 8am - 5pm
Tuesday | 8am - 5pm
Wednesday | 8am - 5pm
Thursday | 8am - 5pm
Friday | 8am - 3pm
Saturday | Closed
Sunday | Closed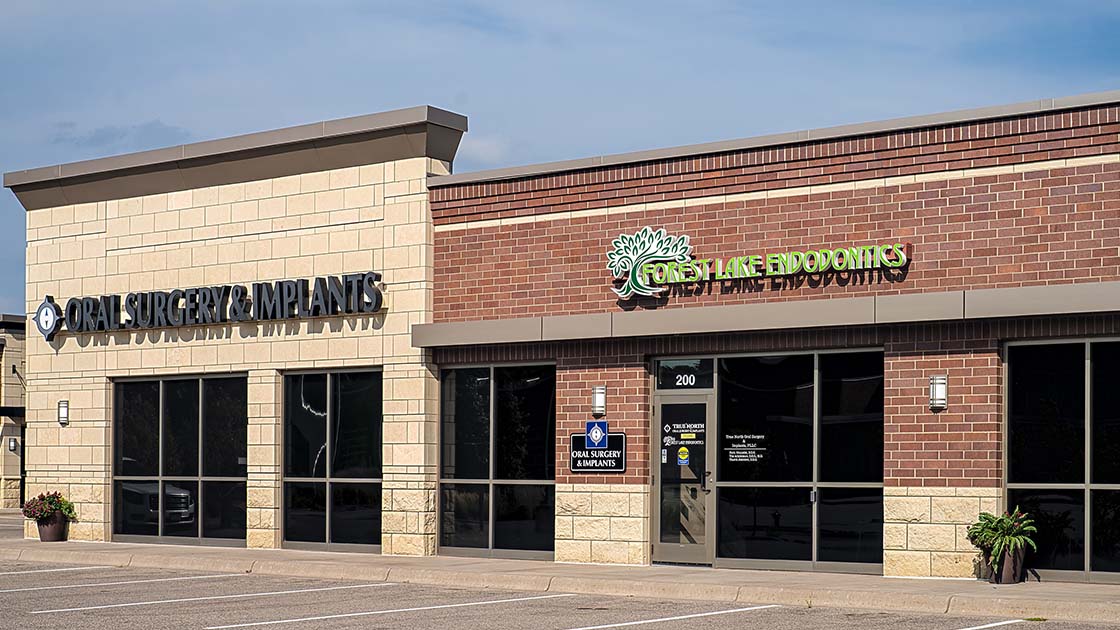 Directions from Stillwater, MN
Drive from Manning Ave N, Manning Trail N and Scandia Trail N to Forest Lake
Head west on Myrtle St W toward 4th St N
Continue onto 75th St N
Turn right onto Manning Ave N
At the traffic circle, take the 2nd exit and stay on Manning Ave N
Continue onto Manning Trail N
Turn left onto MN-97 W/Scandia Trail N
At the traffic circle, take the 2nd exit onto Scandia Trail N
Slight right toward Forest Blvd N/Lake St S
Turn right onto Forest Blvd N/Lake St S
Drive to your destination
We provide a full selection of endodontic services, including:
Root Canal Treatment
A root canal is a routine endodontic procedure that removes the infected and inflamed pulp inside the root. Endodontists perform root canals to relieve pain and stop the infection from spreading. Root canals can save natural teeth from extraction.
Endodontic Retreatment
In some cases, renewed pain and infection may follow an initial root canal. This problem could happen immediately or months or years later. In this case, the dentist reopens the tooth and performs endodontic retreatment, relieving the infection and associated pain. Endodontic retreatment can fix errors made by other practices.
Cracked Teeth
When teeth become cracked, it can be difficult to diagnose the problem. Over time, the broken pieces' movement damages the pulp inside the tooth. Symptoms may include pressure sensitivity, pain, or temperature sensitivity. Cracked teeth receive root canals and crowns to relieve pain and restore function.
Emergency Root Canal
Tooth pain can't always wait for a scheduled appointment. In this case, Forest Lake Endodontics can quickly get you in for an examination and diagnosis of your urgent dental issue. Emergency root canals and other procedures quickly relieve pain and increase the chances that the endodontist can save the natural tooth from extraction.
Dental Cysts
Dental cysts are various types of sacs that occur within the gum. Fluid, soft tissue or air may fill these cysts. Some dental conditions that may cause cyst formation include teeth that have not erupted, severe periodontal disease, and infection. Not all cysts are infected, but removing them when they are first detected helps to prevent future complications.
3-D Imaging
Forest Lake Endodontics uses updated 3-D imaging technologies to help dentists diagnose your issues quickly and accurately. Equipment used includes the Cone Beam Computer Tomography (CBCT) scanner. The CBCT scanner provides highly detailed images of the teeth, bone, and soft tissues of the face and head. It aids in diagnostic procedures and allows dentists to plan successful treatments.
GentleWave® Procedure
The GentleWave® procedure uses chemistry, fluid dynamics, and sonic energy to clean the entire root canal, even inaccessible spaces, during normal procedures. GentleWave® makes root canals and other endodontic procedures faster, more effective, and less likely to fail.
Endodontic (Apical) Surgery
Endodontic surgery may become necessary when infection progresses into the root's tip. The endodontist makes a flap of gum tissue to access the root and cuts away the tip, removing the infected material. This procedure often becomes necessary after a failed root canal. Our practice also performs apical microsurgery for greater accuracy.
Dental Trauma
Sometimes teeth are subject to traumatic injuries. Our dental trauma treatments can help relieve pain and restore the tooth's full function. We can treat cracked, fractured, knocked-out, and dislodged teeth.
Root Resorption
Root resorption can happen when the soft tissues around the tooth reabsorb it. In adults, it may happen when patients grind their teeth to excess, experience tooth trauma, or undergo too much teeth whitening. The endodontist may restore the lesion where the tooth is being reabsorbed or refer you to have the tooth extracted.
Dental Abscess
Dental abscesses are painful infections resulting from cracked teeth or excessive decay. The endodontist generally drains the infection, treat it with antibiotics, and performs a root canal. In some cases, the tooth may need extraction. If you have a severe toothache, fever, chewing pain, or swollen jaw, you may have a dental abscess and need immediate attention.
Sedation Options
Many patients feel nervous about endodontic procedures. Our practice is happy to accommodate these patients using several sedation options. We can arrange an oral sedative, nitrous oxide, or a combination of the two. If you receive only nitrous oxide, you can drive yourself to and from the appointment and take less time out of your day.
Why Choose Forest Lake Endodontics?

Expert endodontists lead our practice. They use advanced technology to meet your dental needs. We are committed to providing a pain-free treatment experience and care for our patients' comfort and satisfaction. Our office environment is warm and friendly, and we care for all family members.
Frequently Asked Questions About Endodontic Services

What should I do if my tooth gets knocked out?
Save your tooth by placing it in a glass of milk and get to the endodontist as quickly as possible. We offer emergency appointments. The endodontist may be able to replace the tooth and splint it so that it once more bonds with the socket.
What happens if I had a root canal in the past, but the tooth starts to hurt again?
You should see an endodontist as soon as possible. Our Cone Beam Computer Tomography (CBCT) scanner can accurately detect problems. Depending on the extent of your issues, you may need endodontic retreatment or endodontic surgery.
How much radiation do X-rays use?
Overall, the radiation level used in dental practices today is much lower than in the past. Digital X-rays use very little radiation. The CBCT scanner uses more radiation but is a safe and effective diagnostic tool.
What should I do if I have a toothache?
Make an appointment to see an endodontist as soon as possible, on an emergency basis, if needed. Rinse your mouth with warm salt water or hydrogen peroxide in a 3% solution. Place a cold compress on your cheek and take over-the-counter pain medications as directed until you can see a dentist.
Call Forest Lake Endodontics

Forest Lake Endodontics is convenient for Stillwater residents. Our practice can help you overcome severe dental conditions that cause pain and endanger your natural teeth. Call our office at
651-464-9888
to make an appointment or ask about our services.