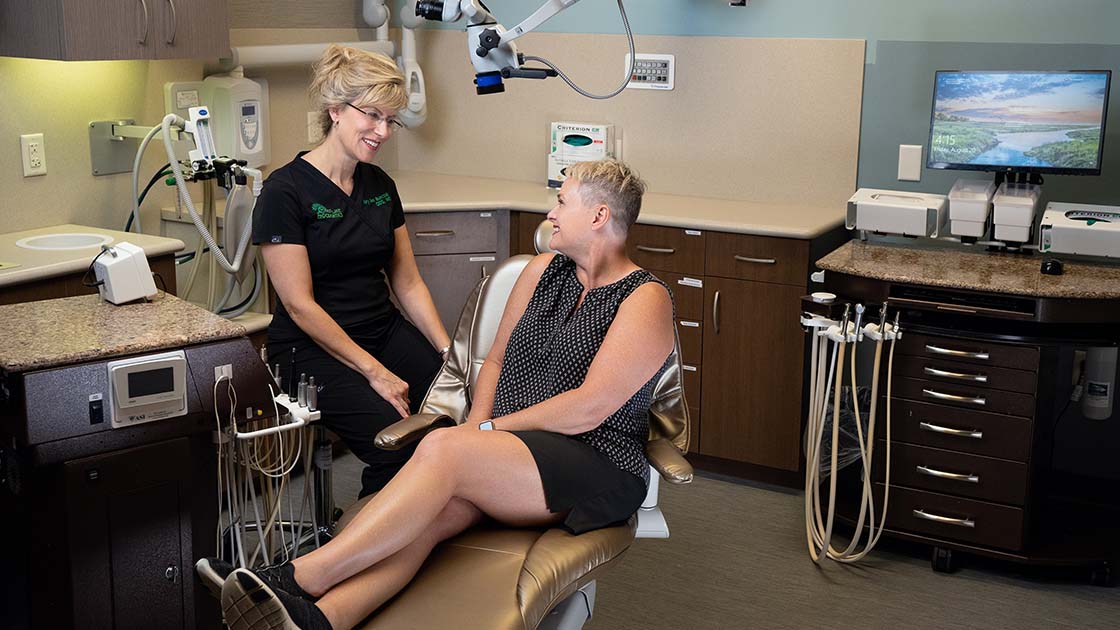 Forest Lake Endodontics performs a list of endodontic procedures in Forest Lake, MN. Call
651-464-9888
to learn more or to schedule an appointment.
What Is Endodontics?
Endodontics is a dental specialty that involves the pulp found deep inside the tooth. When bacteria and tooth decay reach this area, it can lead to severe toothaches and signs of abscesses. These both should prompt patients to seek dental attention - or risk losing the tooth altogether.
There are many advanced procedures, such as root canal treatment, endodontic retreatment, and pulpotomies that can help to remove infection and decay while restoring the tooth and overall oral health.
Procedures Offered
The highly skilled specialists at Forest Lake Endodontics, offer a long list of procedures to meet the endodontic needs of our patients, including:
We also offer endodontic treatments using the GentleWave System. Using sound waves and cleaning fluids, the infection and decay can be cleared out of your tooth in a very minimally invasive way. This is not only as effective as traditional root canal treatment, but it also allows more of the tooth to be preserved.
Benefits of Endodontics
The dental specialty, endodontics, offers patients a way to treat infection and decay without losing their tooth entirely. In fact, the goal is to preserve the natural tooth whenever possible.
A few additional benefits include:
Rid your mouth of pain, sensitivity, and discomfort.
Boost your smile - and overall appearance.
Pain-free procedures to treat complex dental issues.
Remove unhealthy bacteria from your mouth.
Cost-effective solution to save the tooth, rather than encountering other dental issues down the road.
Re-gain a healthy bite and the ability to chew.
Why Choose Forest Lake Endodontics?
Endodontics is the specialty here at Forest Lake Endodontics - it's what we do. And our patients know that they will receive a positive, pain-free experience here.
See, we understand that you may be hesitant to seek dental treatment - until you are in unbearable pain. That's why having a compassionate and friendly staff is a vital step in making you feel welcomed from the moment you enter our office. We take the time to determine what is going on with your oral health and discuss the available options with you in a way that you can understand - allowing you to make an informed decision.
You have a choice when it comes to your endodontic care - and everything you are looking for can be found here at Forest Lake Endodontics.
Advanced technology
Efficient
Professional
We make sure your endodontic needs come first - every time.
FAQs
Does it hurt to get a root canal?
No, it does not hurt to get a root canal. These are very common procedures that use a local anesthetic to reduce the incidence of discomfort. As it begins to wear off after your procedure, you may experience some minor discomfort. An over-the-counter pain reliever should offer you relief.
Is there a difference between an endodontist and a dentist?
Yes. Both an endodontist and a dentist are trained to perform general dentistry. However, an endodontist has additional endodontic training. They are more highly trained and better equipped to provide patients with successful root canals and other endodontic treatments.
How do I know if I have an abscess?
An abscess may or may not be visible. Sometimes it may appear on the gums surrounding the ailing tooth and other times it may actually be inside at the tooth's root. An abscess is a pocket of pus that can cause swelling. The area near around it may feel firm, warm, and swollen - even if you cannot see it. If you believe you have an abscess, then it is important you are seen by an endodontist as soon as possible.
To learn more or to schedule an appointment, call
651-464-9888
.