Forest Lake Endodontics
1420 Lake Street S. Suite 200a
Forest Lake, MN 55025
Monday | 8am - 5pm
Tuesday | 8am - 5pm
Wednesday | 8am - 5pm
Thursday | 8am - 5pm
Friday | 8am - 3pm
Saturday | Closed
Sunday | Closed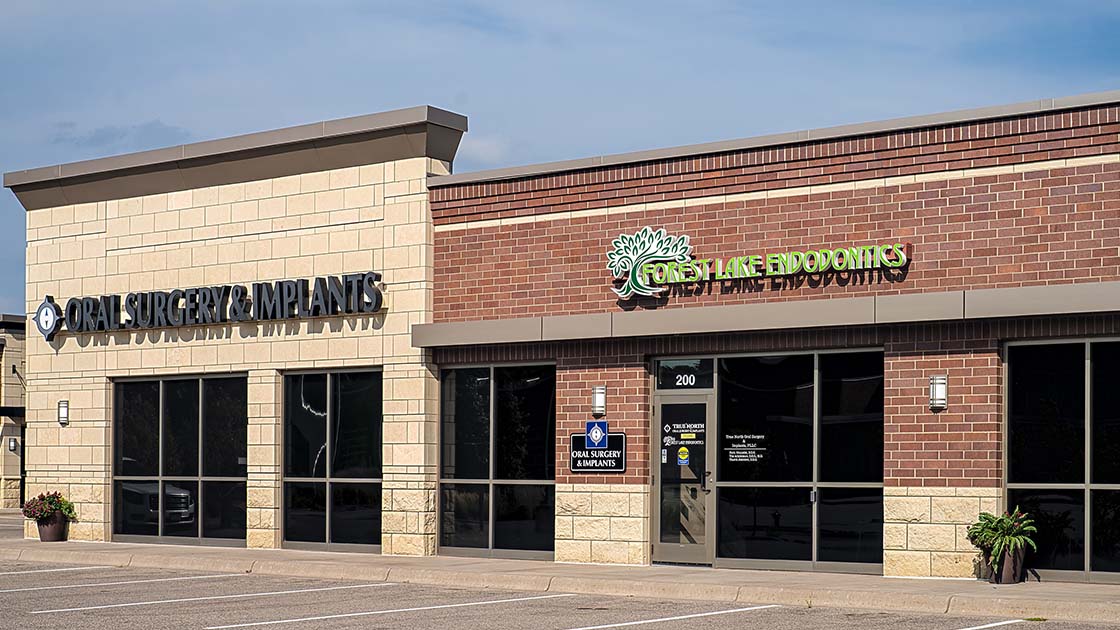 Services We Provide
We provide the following endodontic services: 
Why Choose Forest Lake Endodontics?
Endodontists are dental specialists who diagnose and treat conditions affecting the dental pulp and the health of the teeth. Forest Lake Endodontics provides advanced treatment that goes above and beyond general dentistry to save your natural teeth whenever possible. We make it our priority to provide solutions to challenging dental health problems. If the tooth can be saved, we will find a way to save it. 
Frequently Asked Questions 
Why do I need to go to an endodontist?
There are some dental conditions that are best addressed by an endodontist. Endodontists specialize in treating problems with the dental pulp inside the tooth. You may need to see an endodontist for a severe tooth infection, problems with the root of a tooth, or a dental trauma. 
Does root canal treatment hurt?
Local anesthesia is used to numb the area where the root canal will be performed. You should not feel any pain during the procedure. If you are anxious or nervous, sedation options are available to help you relax. 
Does a cracked tooth need to be treated?
A crack in a tooth should be treated as soon as possible. Depending on the depth of the crack, it could expose the dental pulp to infection. Even a small, shallow crack can grow deeper over time. In most cases a cracked tooth can be treated with a dental crown. 
What are the benefits of GentleWaveⓇ technology? 
GentleWaveⓇ is the latest technology in root canal treatment. It is less invasive and gentler on the tooth for faster recovery. A root canal performed with GentleWaveⓇ technology is more likely to provide a permanent solution without the need for retreatment later on. 
To learn more, call 651-464-9888 today or schedule an appointment.
Directions from Woodbury, MN
Get on I-494 N
Head north on Queens Dr toward Valley Creek Rd
Turn left at the 1st cross street onto Valley Creek Rd
Slight right to merge onto I-494 N
Take I-694 N and I-35E N to MN-97 E/Lake Dr NE in Columbus. Take exit 129 from I-35 N
Merge onto I-494 N
Continue onto I-694 N
Take exit 47 to merge onto I-35E N toward Duluth
Continue onto I-35 N
Take exit 129 to merge onto MN-97 E/Lake Dr NE
Follow MN-97 E and Forest Blvd N to your destination in Forest Lake
Merge onto MN-97 E/Lake Dr NE
At the traffic circle, take the 2nd exit onto Forest Blvd N
At the traffic circle, take the 2nd exit onto Forest Blvd N/Lake St S
Turn left
Turn right
Slight right
Turn right
Turn left
Forest Lake Endodontics will be on the right